Home Page
About Us
Dr. L. Ramesh received his Engineering Doctorate (2015) in Jadavpur University , Master of Technology (2000) in kerala University, Master of Business Administration (2010) in INGOU and Bachelor of Engineering (1997) in M.S. University.
Article Publication
Published Article titled "Join with us to Save 700Ltrs of Water/Day" in IE(India) TVLC Annual Magazine TEKalanciyam, 16th Nov 2019, www.ieitvlc.org.
Published Article titled "Energy Awareness Initiative" in Energypedia Publisher, 13th Jan 2017, https://energypedia.info/wiki/Energy_Awareness_Initiative.
Published Article titled "Super Conductor Power Transmission" in IETYPS Chennai News Letter THE GRID, dated July 2009, Volume 1, Issue 2,Page 5.
Published Article titled "Energy Efficient Lighting" in IETYMS Chennai News Letter THE GRID, dated July 2008, Volume 1, Issue 1, Page 4
International Journal Publication
L. Ramesh and Dr. N. Chakraborty, (2019) "Optimal Allocation of Transformer and its Effects On Distribution System Loss Minimization", Springer Russian Electrical Engineering Journal, March 2019, Volume 90, Issue 3, pp 285–293
International Conferences Publications
Kumaravelu.S, Rubesh.R, Sarath Kumar.K, Arya Abhishek and Ramesh.L , (2019), " Energy Usage and Stability Analysis of Industrial Feeder with ETAP" Springer Lecture notes on Emerging Trends in Computing and Expert Technology, pp 234-243
Inivited Speakers and Interaction
Research Project Objective
solution for Power Management through Smart Energy Audit
Optimal Placement of Smart Meters in Distributed Distribution System
Intelligent Placement of RTU in Distribution System
Solution for Maximizing the improvement of Energy Efficiency in Power System
Design and Development of Grid Connected MicroGrid
Design and Development of Grid Connected DC/AC MicroGrid
Design of MicroWind Tubine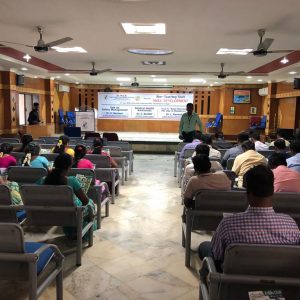 Contact Us
Name: Dr. L. Ramesh
(Founder and Chairman – Energy Efficency Research Group)
(Additional Dean – Faculty of Engineering and TechnologyDr.M.G.R Educational and Research Institute (University) )
Address: Maduravoyal, Chennai -600098, Tamil Nadu – India